When eating out, staying healthy or when you feel like a little snack – why not make some bruschetta? =)
To start off with, you need to bake some/or buy pain riche (baguette):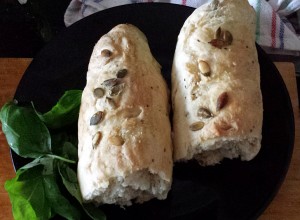 50 g yeast
5 dl water (lukewarm)
2 tea spoons salt
1 table spoon olive oil
10 dl quinoa flour (or more if needed)
1 table spoon Chia seed
Stirr the yeast with water until it's desolved, then add salt, oil and the chia seeds. Then add a bit of flour. Add more flour to get a dough, mix and knead.
Let it prove/ferment under a tea towel for 45-60 mins.
Turn on the oven to 250 degrees c.
Devide the dough in to 4 parts. Roll them in to baguettes and put on a bakestone with a sheet. Add some sun flower seeds or other seed on top.
Let it prove/ferment another 20 mins while the oven heats.
Put the pain riche in the oven, in the middle, for 15 minutes.
______________________________________________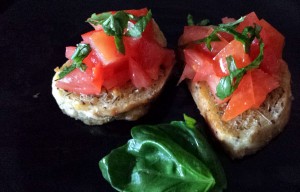 To continue and make some lovely bruschetta, cut the pain riche in to slices.
Dip the slices in to a bowl of 3 table spoon olive oil + 2 crushed garlic cloves.
Put on baking sheet and in to the oven (200 degrees c) for 8 minutes.
After half the time, turn to make sure they do not burn but get crispy.
When done, spice with herbs, oregano, time and top it off with some chopped tomato and fresh basil.
Yum! =)
//lia