*** Warning – Might contain Spoilers ***
Fifty Shades of Grey.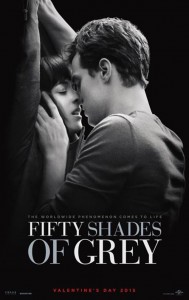 *Exhales* Ok, so here it is, the long anticipated review. I finally watched it, the first film in the trilogy about Anastasia Steele and Christian Grey.
While I did read the books and while I had a preconception about the film, I still felt excited and decided to watch it with an open mind.
Needless to say, it's always hard to compress such detail in to a 2h film. There are so many thoughts and so many feelings that would be difficult (if not impossible) to portray on the screen.  However, I am actually delightedly surprised at how well Dakota Johnson interpreted Anastasia. With that all wholesome look, the puppy eyes and slight complexion, she did a great job. Trembling voice and nervous innocent looks. I didn't think I would like her but I do, I appreciate her!  I did expect Jamie Dornan to be an excellent Mr Grey, though. After watching The Fall  I could definitely see him as a dominant, sexy and rich. I was expecting a slightly tougher Mr Grey, though. When Jamie smiles he loos like a little boy and although the character Christian Grey is a multilayer man, what I wanted to see what an even more tormented man with a harder exterior. That's the image I had in my head after reading the books. He also looks better with a bit of scruff, even if it wouldn't suit the clean-shaven Mr Grey…
But come one, who am I to complain? 😉
So… YES! I liked it! I did. Being brought up in the 80's, love stories was a part of my  adolescence. That dark, tall prince that would bring you in to a world of passion, love and excitement. Yes, We all read about Mr Grey, although in a slightly tamer package. This version of him likes sex. And gadgets. Sex and gadgets. Lots of it.
I remember the sheer surprise I felt when reading the first book. It was porn wrapped in pink, fluffy clouds. Something a bit forbidden, merged in to everyday life. Like poof, thank you for the dinner, I'm off to experience mental orgasms now.
And watching the film tonight, I felt a little hint of that. A splash of "can I really watch this with the curtains open?" together with hell yeah, bring it on! Haha. And I liked it! :p I liked how I recognized the story, it felt familiar. I liked the times where Jamie looked serious as only he can, with his head slightly bowed but his eyes piercing through the screen. Yes. I even enjoyed the sex scenes but couldn't help but feeling sorry for his poor wifey at home as he was caressing Dakotas body.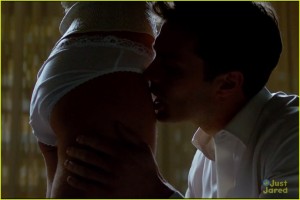 I think that as a viewer (and I am sure for the actors as well) once you know the outline of the story, it creates a thin layer of embarrassment over the sex scenes. You know that you are about to watch some S&M and that it must have been uncomfortable for the actors. Still, I think they did a very good job, indeed! Both Dakota and Jamie delivered hot steamy sex scenes and the great pumping music in the background only made it even hotter.
Whatever worry there is about this film being pro-rape or a muse for violence, I do not buy it. First of all, come one, who will be watching this film? Mostly women, right? And most women use it as a fantasy, a sexy escape from reality. Not as an instruction manual for hardcore punishments and boundary-crossing.
*** SPOILER ***
Sure, Miss Anastasia becomes hurt and feels violated at the end of the film because the spanking she received was harder than she expected. I know, I know. There is, of course a deeper emotional complexity to her reaction but as a rational response to any misunderstanding about possible female abuse – he did not force anything upon her. She asked him to do it, even reassured him that she wanted it when he wasn't certain that he should.
So yes, there might live a little small sexy sadist inside of me as well because I did enjoy the film! :p
I give it 4 hearts –>   ❤❤❤❤
//lia